Sample Letter #1
Honey, you know with you by my side, my day seems happier and full of love. When I heard that you never felt so much in love, I just wanted to be with you, to hug and kiss you until we both ran out of breath. I must be the luckiest girl in the world because I have your love. Every time I think about you, I can't help but smile. You're the reason I smile all the time now. I love you, Honey. I heard that you cherish everything between you and me. That's really great. I never thought I would have such a lasting influence on you.
Thanks for your sweet and tender love. We need to write our own book of love! Please take care of yourself, and I will be yours, all yours--if you will be mine!
Related Articles
Related Resources
Still can't find the right words for your love-you letter?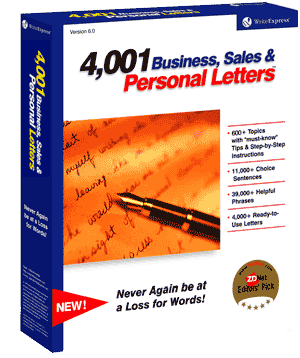 You will with our 500 letter-writing tutorials!
Find the love-you letter that fits your needs and copy it directly into Microsoft Word or your favorite word processor.
Or let our 500 letter-writing tutorials guide you step-by-step through the writing process, suggesting sample phrases and sentences for each writing step. In minutes, you can write an effective love-you letter.
Print your love-you letter and send it!