Sample Letter #1
As the old year ends and the new year begins, take all that I have to offer to you and hold it dear to you. Keep my heart safe, as I will keep your heart safe. From now until this new year ends, we will know that our hearts are joined. You are mine, and I am yours. Together we are one, and I will love you forever. Happy New Year!
Related Articles
Related Resources
Still can't find the right words for your love-you letter?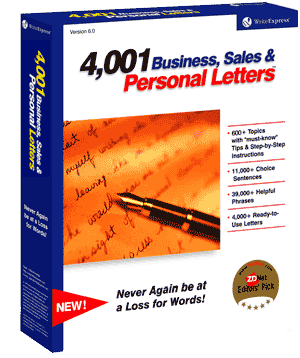 You will with our 500 letter-writing tutorials!
Find the love-you letter that fits your needs and copy it directly into Microsoft Word or your favorite word processor.
Or let our 500 letter-writing tutorials guide you step-by-step through the writing process, suggesting sample phrases and sentences for each writing step. In minutes, you can write an effective love-you letter.
Print your love-you letter and send it!