Sample Letter #1
I can't believe it started over one little e-mail. Who would have ever thought I could have met my soul mate through the Internet--definitely not me! From the first time I saw you, I knew I was going to marry you. You make me feel so special, so loved. I have never known a love like this in all my life, and it's the only love I ever want to know. It's been six great months. You are my best friend and my only lover, Baby. You complete me. I will always love you, no matter what happens next!
Related Articles
Related Resources
Still can't find the right words for your love-you letter?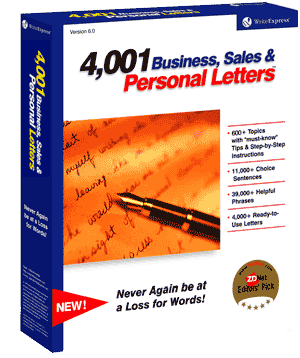 You will with our 500 letter-writing tutorials!
Find the love-you letter that fits your needs and copy it directly into Microsoft Word or your favorite word processor.
Or let our 500 letter-writing tutorials guide you step-by-step through the writing process, suggesting sample phrases and sentences for each writing step. In minutes, you can write an effective love-you letter.
Print your love-you letter and send it!