Sample Letter #1
I don't know what it is about you that makes me feel the way I do. No other guy can touch my heart, but you can see through to the depths of my very soul. I care about you more than I ever knew I could care about anyone before. You see, I never thought I could love again, but now I'm so confused. My heart says, "yes," but my head says, "no." You wonder why I care about you, but it's simple: when I look into your eyes, I see beyond all the hostility on the outside. I see a real person with real needs, the one you are afraid to be. But that's okay, because I know the truth, and I will wait for the day when you'll open the gate and let me in. Even if it takes years, I'll be right here, waiting for you to let me love you, as I already love you now.
Related Articles
Related Resources
Still can't find the right words for your love-you letter?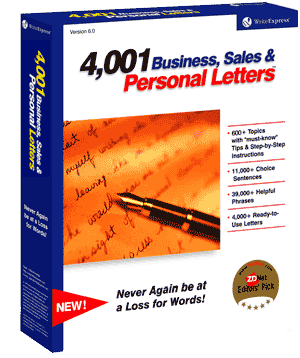 You will with our 500 letter-writing tutorials!
Find the love-you letter that fits your needs and copy it directly into Microsoft Word or your favorite word processor.
Or let our 500 letter-writing tutorials guide you step-by-step through the writing process, suggesting sample phrases and sentences for each writing step. In minutes, you can write an effective love-you letter.
Print your love-you letter and send it!