Sample Letter #1
I just want to tell you how much I love you. You have brought so much happiness into my life and you do so much for me that no one has ever done for me before. I will continue to love you for the rest of my life, and forever.
Sample Letter #2
It's hard to explain just how much I love you. You do things for me I never knew were possible. With each look, with each kiss, with each embrace, you make me feel more alive and special.
It's so much of an understatement to say I'm glad that you are mine! Since we've been together, an appreciation for the possibilities and joys of living have arisen in me, and I can never really thank you enough for that. You have refreshed my most precious possession--my heart. Through your love, you have opened my eyes to the wonders all around me. I can't truly thank you enough for this gift, but please know that I will never give you a reason to say that I don't care about you. There is not a second that you're not in my mind. I will always be there for you, and I will always love you.
Related Articles
Related Resources
Still can't find the right words for your love-you letter?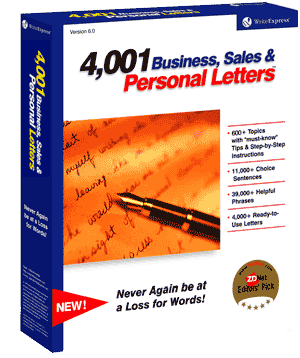 You will with our 500 letter-writing tutorials!
Find the love-you letter that fits your needs and copy it directly into Microsoft Word or your favorite word processor.
Or let our 500 letter-writing tutorials guide you step-by-step through the writing process, suggesting sample phrases and sentences for each writing step. In minutes, you can write an effective love-you letter.
Print your love-you letter and send it!