Sample Letter #1
Hello, Sweetheart. Actually where will I start? Should I be subtle, or should I just go straight to the point? Let me say this to you. Your love is like the morning star that brightens the day and makes it look beautiful. Your love is like the water that flows downstream and has no end; it keeps on flowing and flowing to eternity. Your love is incomparable, unbeatable; it makes me want to go forward. It gives me hope, trust, caring, and a future that shows someone special is out there who cares, loves, and trusts me.
I am so happy that I found you. I knew from the very first day that you were the right one for me. I will be forever grateful to you for giving me the opportunity to love you, for opening your heart to me, for showing me what is called true love. I am forever grateful to you. There is nothing that can separate us; we were made for each other. For better or for worse, no matter what the future may hold, I will love you, and I mean that from the bottom of my heart.
Related Articles
Related Resources
Still can't find the right words for your love-you letter?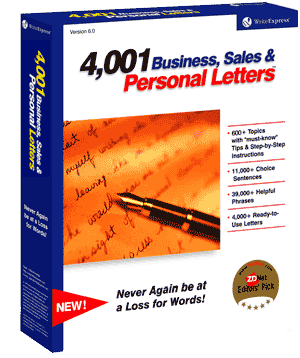 You will with our 500 letter-writing tutorials!
Find the love-you letter that fits your needs and copy it directly into Microsoft Word or your favorite word processor.
Or let our 500 letter-writing tutorials guide you step-by-step through the writing process, suggesting sample phrases and sentences for each writing step. In minutes, you can write an effective love-you letter.
Print your love-you letter and send it!