Sample Letter #1
There is so much I would like to say to you and tell you what you mean to me, but the right words don't ever come.
You have the most amazing way of showing me how much you care. You share things with me that I couldn't share with anyone else. There have been a few speed bumps along our road, but we have always walked hand-in-hand, heart-to-heart, and soul-to-soul. Because of everything we have gone through, I know I can lean on you and be safe and secure.
I never knew love until I knew you. I can't imagine life without you now. You are everything to me, and I am blessed with your love and devotion. I love you, more than I can ever tell you. There are no words for the love I have for you. My heart is yours--today and tomorrow, into eternity and beyond.
Related Articles
Related Resources
Still can't find the right words for your love-you letter?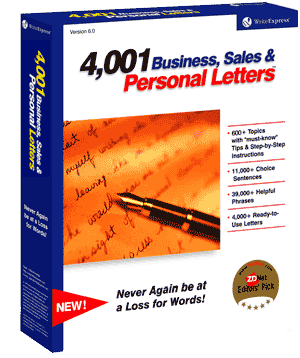 You will with our 500 letter-writing tutorials!
Find the love-you letter that fits your needs and copy it directly into Microsoft Word or your favorite word processor.
Or let our 500 letter-writing tutorials guide you step-by-step through the writing process, suggesting sample phrases and sentences for each writing step. In minutes, you can write an effective love-you letter.
Print your love-you letter and send it!