Sample Letter #1
To be with you is like living in a dream. You make my world such a beautiful place. I wonder now what I was like before I met you. Can you see how you allow me to erase all the negative and live purely on all beautiful, positive energy that just flows from being with you? I knew somehow that this kind of love existed, but I was almost convinced that it was buried in the sands of time.
Since you have come into my life, I know now that there still is and can be true love. Some may ask what about the difficult times? I can honestly say I welcome the opportunity to experience every emotion I have with you, as long as we can do it together. I believe that in our love there is nothing that we could not overcome. The love I feel for you is so intense, so free, so overflowing, that deep within me I truly believe it can surpass the end of our very lives. I love you, and intend to show you how much I love you each and every moment of our lives.
Related Articles
Related Resources
Still can't find the right words for your love-you letter?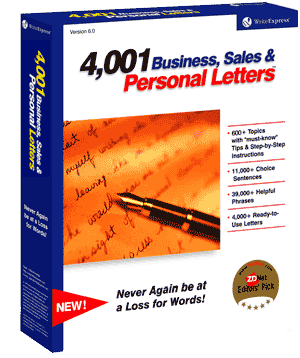 You will with our 500 letter-writing tutorials!
Find the love-you letter that fits your needs and copy it directly into Microsoft Word or your favorite word processor.
Or let our 500 letter-writing tutorials guide you step-by-step through the writing process, suggesting sample phrases and sentences for each writing step. In minutes, you can write an effective love-you letter.
Print your love-you letter and send it!