Sample Letter #1
When I first saw you, I knew something was different about you. I wanted to talk to you for a long time, but I did not have the courage to talk to you at all. I thank God every day that He brought you into my life.
I had no idea that things would end up the way they are now. I could never have guessed that you would be my wife, and I would not change anything about us. I love you with all my heart and soul. You fill me with so much happiness. When I go off every day to work, there is only one thing that keeps me going from day to day, and that is the assurance I will be able to spend time with you when I come home. Knowing I will be able to spend the rest of my life with you fills me with so much joy that tears come to my eyes. I smile every time I hear your voice. You mean the world to me, and I never want to lose you. I love you.
Related Articles
Related Resources
Still can't find the right words for your love-you letter?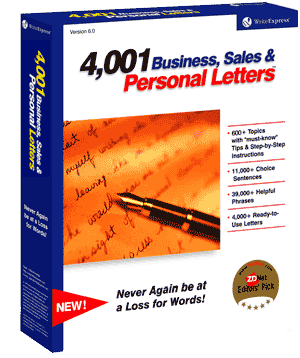 You will with our 500 letter-writing tutorials!
Find the love-you letter that fits your needs and copy it directly into Microsoft Word or your favorite word processor.
Or let our 500 letter-writing tutorials guide you step-by-step through the writing process, suggesting sample phrases and sentences for each writing step. In minutes, you can write an effective love-you letter.
Print your love-you letter and send it!