Sample Letter #1
Hey, Baby, how are you? I miss you. You have been away so long now. But while you are away, I thought I would write and tell you something that has been on my mind for awhile now. Remember how you asked me if I loved you? Yes, I do love you. In fact, I have loved you for a long time now, but have been too shy to show you my feelings. See, I have been hurt before, and I really didn't want to get hurt again, but then I later realized that you really do love me. You actually do understand me, and you really do care about me. I thought I should let you know how I feel before you think I don't care. When you come back from your trip, we will be able to talk about it more. So, the answer to your question for now is--yes, I really do love you.
Related Articles
Related Resources
Still can't find the right words for your love-you letter?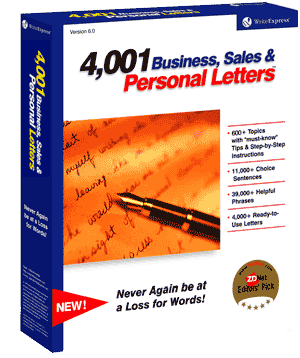 You will with our 500 letter-writing tutorials!
Find the love-you letter that fits your needs and copy it directly into Microsoft Word or your favorite word processor.
Or let our 500 letter-writing tutorials guide you step-by-step through the writing process, suggesting sample phrases and sentences for each writing step. In minutes, you can write an effective love-you letter.
Print your love-you letter and send it!