Sample Letter #1
I never expected to meet a man like you. You are so amazing and unique. I admire your voracious appetite for life, your strength and courage, your intelligence, your take charge, the-world-be-damned attitude. I admire your adventurous and energetic spirit.
I think of you as a pioneer of sorts--enthusiastic, confident, dynamic, and quick-witted. Of course, at times, your immense energy makes you seem aggressive and restless, headstrong and quick-tempered, but I love these qualities, too, because I know that your love for life and your love for me are what drive you.
In the end, I love all that which is essential to your nature. I love the warrior within you, and there is no one else on earth I would rather be with, or who I would rather give myself to, or who can make me as happy or as content with life as you do!
Related Articles
Related Resources
Still can't find the right words for your love-you letter?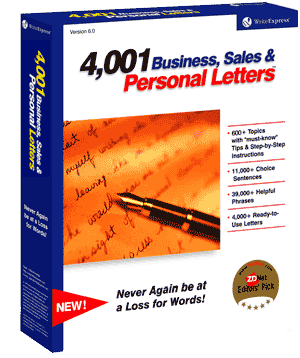 You will with our 500 letter-writing tutorials!
Find the love-you letter that fits your needs and copy it directly into Microsoft Word or your favorite word processor.
Or let our 500 letter-writing tutorials guide you step-by-step through the writing process, suggesting sample phrases and sentences for each writing step. In minutes, you can write an effective love-you letter.
Print your love-you letter and send it!