Sample Letter #1
I loved it when you said you could feel the Earth move when we were together. When I think of this whole big world and its billions of people, I wonder how we even found each other! I will be eternally grateful that I found you and that you found me. I think we are a perfect match!
How easy it would have been not to show any interest in one another when we first talked. Instead, we both chose to listen as we looked into each other's eyes, and I felt there was an immediate rapport. Didn't you, too? We understood that the person we were meeting would be different and unique. That realization was quick and very real.
Now we have a chance to expand our love. Finding each other was a miracle and keeping our love alive will be another part of that miracle. I promise to do all that I can to keep us together, and I know that you will, too.
Related Articles
Related Resources
Still can't find the right words for your love-you letter?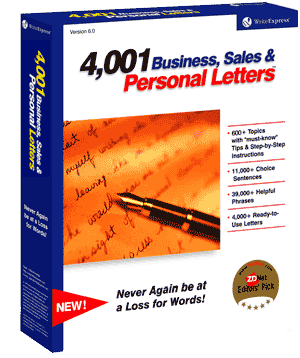 You will with our 500 letter-writing tutorials!
Find the love-you letter that fits your needs and copy it directly into Microsoft Word or your favorite word processor.
Or let our 500 letter-writing tutorials guide you step-by-step through the writing process, suggesting sample phrases and sentences for each writing step. In minutes, you can write an effective love-you letter.
Print your love-you letter and send it!