Sample Letter #1
"You are so very" is how I begin when I am trying to describe you. You know that I always use so many different words to describe you and our love that it just begins, simply, "You are so very." You have helped me to become a better person and to get in touch with myself and to like myself. You expected better things from me and supported my efforts to have a positive outlook. You are so very wonderful. I dream of the day I can finally pledge my love to you, forever and always, and receive yours in return.
You are so very supportive and loving, you make me want to shout at the top of my lungs how much I love and adore you, how I love to share your life, and how very beautiful you are. I will love you forever and a day, my love, because you are so very, very--just every good thing I can think of!
Related Articles
Related Resources
Still can't find the right words for your love-you letter?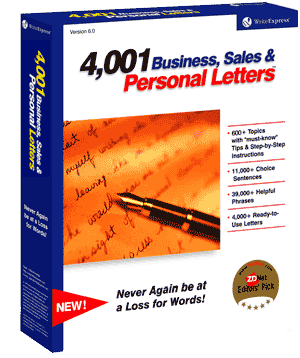 You will with our 500 letter-writing tutorials!
Find the love-you letter that fits your needs and copy it directly into Microsoft Word or your favorite word processor.
Or let our 500 letter-writing tutorials guide you step-by-step through the writing process, suggesting sample phrases and sentences for each writing step. In minutes, you can write an effective love-you letter.
Print your love-you letter and send it!