Sample Letter #1
Our road to friendship has been a little less than conventional, but it has worked for us. I know you will always be there for me. That's one of the reasons I think I may be falling in love with you.
I know you do not have time for a relationship right now and that you may even be afraid to commit to me, but I am patient. I will be by your side, regardless of my status with you. I have never felt so attached to a person in my life. I love talking to you or just being around you.
I also realize that it is hard to tell somebody that you do not love them as they love you. Please, don't ever be afraid to be honest with me, because I will always be your friend.
Mainly, I wanted you to know I will wait for you. I don't need fancy gifts or all of your time. All I need is to know you care, and I believe you do already. I love your hugs and encouraging words, and I want to say, "thank you" for everything. I have loved you as my friend for a while now, and I would love to love you even more.
Related Articles
Related Resources
Still can't find the right words for your confession letter?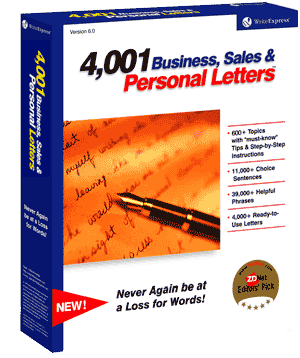 You will with our 500 letter-writing tutorials!
Find the confession letter that fits your needs and copy it directly into Microsoft Word or your favorite word processor.
Or let our 500 letter-writing tutorials guide you step-by-step through the writing process, suggesting sample phrases and sentences for each writing step. In minutes, you can write an effective confession letter.
Print your confession letter and send it!