Sample Letter #1
I've kept my feelings for you contained as long as I can. I am in love with you, and true, honest love should not be contained and kept quiet forever. There is so much about you that most girls don't see. They only see the physical. They see your body, but my love for you is more than skin deep. My feelings for you grow every day, and my love grows deeper with every passing minute. You mean so much to me. Just seeing your smiling face or hearing you heart-melting voice brightens up my worst days and makes them more than just bearable. Just having a hug from you makes me feel warm and cozy inside. I dream of you day in and day out; you're the only one on my mind now. I am in love with you and have been in love with you since I can't remember when!
Related Articles
Related Resources
Still can't find the right words for your confession letter?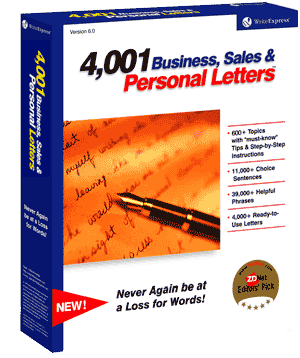 You will with our 500 letter-writing tutorials!
Find the confession letter that fits your needs and copy it directly into Microsoft Word or your favorite word processor.
Or let our 500 letter-writing tutorials guide you step-by-step through the writing process, suggesting sample phrases and sentences for each writing step. In minutes, you can write an effective confession letter.
Print your confession letter and send it!