Sample Letter #1
I'm writing to let you know how I feel about you. I don't know how to tell you face to face, so I am going to put my feelings into words now. Since the day I met you, I haven't been the same. My feelings just can't be tamed. I am starting to care for you in a different way. I think of you every day! I love everything about you! Your smile, your eyes, your hair, your body--I hope you are getting the point. I can't get you off my mind. You have me feeling foolish. I know you may not feel the same, but my feelings just keep growing for you each and every day. Well, what I am trying to tell you is that I am falling in love with you--yes, this is true! But I'll understand it if you don't feel the same. I just have to let you know how I really feel. This is no whim; my feelings are real and genuine.
Related Articles
Related Resources
Still can't find the right words for your confession letter?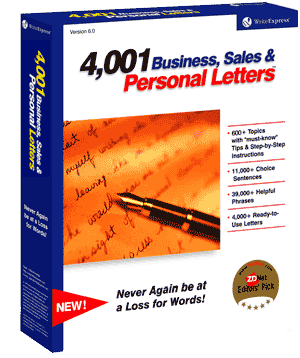 You will with our 500 letter-writing tutorials!
Find the confession letter that fits your needs and copy it directly into Microsoft Word or your favorite word processor.
Or let our 500 letter-writing tutorials guide you step-by-step through the writing process, suggesting sample phrases and sentences for each writing step. In minutes, you can write an effective confession letter.
Print your confession letter and send it!