Sample Letter #1
This is the final letter I'll ever send you. I never knew love until I met you. You came into my life through a dating site on the Internet, and I'll never forget that night we met in the chat room. We shared our hopes and dreams for the future. I just pray when you read this letter, it touches your heart and restarts what we had before. I love you and want to be with you. I want so much for us to have the best life together.
If only you knew how your absence has affected me. You gave so much hope that we could have a relationship and now you have taken that hope away. To cut me out of your life in such a manner is cruel. How could you have changed so much unless what you said in the beginning was not true?
Related Articles
Related Resources
Still can't find the right words for your love letter?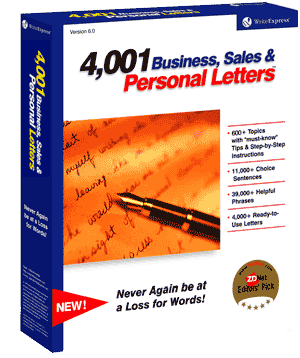 You will with our 500 letter-writing tutorials!
Find the love letter that fits your needs and copy it directly into Microsoft Word or your favorite word processor.
Or let our 500 letter-writing tutorials guide you step-by-step through the writing process, suggesting sample phrases and sentences for each writing step. In minutes, you can write an effective love letter.
Print your love letter and send it!