Sample Letter #1
Thank you for coming into my life. The day I wanted to end my life because he left me, you came to tell me that life must go on. You were sent to be my angel. Thank you for everything, for all your sacrifices.
I miss those times when you called me "Honey Bunch." When I was exhausted at the end of the day and called you, you were always there to listen to my troubles. You have been my inspiration; you helped me achieve my dreams. But now, they've all fallen apart.
I know I'm not the kind of woman you dreamed of, I don't have the perfect body, but still you loved me for who I am. I remember you once told me, "It doesn't matter if you can't love me too." If you only knew, Baby, you were my life, my friend. If you only knew how happy I was to have you, and how my life fell apart when I lost you.
I know that I've hurt you so many times and that I shouldn't be bothering you now. I know that I said, "Let me go," but still here I am asking for another chance. Things really changed when you left. My life started to lose direction. I must admit, I can't move on now.
I kept on blaming myself because it was my entire fault. I've been too selfish, too hard on you. Now I'm starting to realize that you were too good for me. You are a very good man, and you deserve someone better than I am. I tried to change for you, but my efforts were not enough. I hope somehow that I made your life special, anyway, though I've not been perfect for you. I hope you'll be happy now and that you can find the person whom you truly deserve.
If you really decide to let go, then there's nothing I can do. I know "sorry' is not enough for the things I have done, but I hope my sincerity is enough. I regret the foolish things that I have done. Because of those things, I lost you, I lost my life. And I'll never love again because of that. But if you can give me another chance, I swear this time I'll make sure I won't hurt you and never, ever let you go.
Even if it will take me a lifetime, I will wait for you to come back. I would not want another love. I'd rather be alone than be with someone who could never take your place.
We've done our best to make our relationship last longer, but things happened and we had to say "goodbye." This goodbye would not mean forgetting our memories; they are too special to forget. It does not mean forgetting the things in our past that made us both better individuals. Maybe we had to say "goodbye," but I want you to remember this--you will always have a special place in my heart. I consider myself lucky to have experienced a love as wonderful as ours. For the last time, I love you.
Related Articles
Related Resources
Still can't find the right words for your love letter?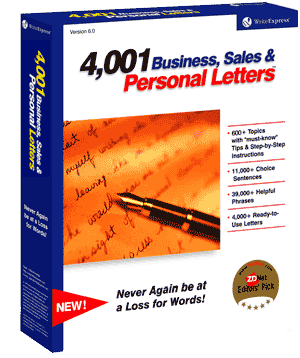 You will with our 500 letter-writing tutorials!
Find the love letter that fits your needs and copy it directly into Microsoft Word or your favorite word processor.
Or let our 500 letter-writing tutorials guide you step-by-step through the writing process, suggesting sample phrases and sentences for each writing step. In minutes, you can write an effective love letter.
Print your love letter and send it!