Sample Letter #1
What happened to us? The promise we made five years ago to say "I love you" every day, no matter what? I know I have shut you out in many ways, and that is only because of the distant and matter-of-fact attitude I sensed coming from you. I wish I could stop loving you, as you apparently have stopped loving me, but I have never lied to you and I won't start now.
It was and always will be a special moment for me when you walked into my life. Like a prince, you turned my world into a fairytale of love and passion unknown to mankind before. I believed you when you told me we would always, "If nothing else, let's be best friends." Have you changed your mind?
I realize you may never read this. I can only hope, as you used to tell me that this message, like a bottle at sea, will find its way to you and let you know that I will always love you, no matter what, and that these memories will never fade from within my soul. "Soul mates," you said. If you believe that, then you don't need these words to know what I am feeling. Love hurts, and I know we have those circumstances in our lives that have kept us apart, but now I believe that if they weren't there, if it were just the two of us, we would still be where we are right now--a thousand miles from nowhere.
I love you and I miss you. I don't know how to stop the pain of losing both a best friend and my first love. Be happy, my darling, and I will always wish upon a star that someday you will walk back into my life as you did once before.
Related Articles
Related Resources
Still can't find the right words for your love letter?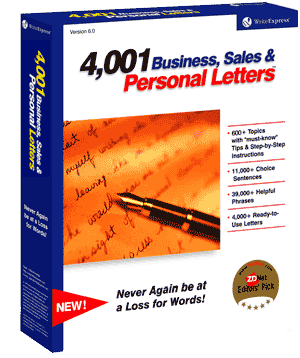 You will with our 500 letter-writing tutorials!
Find the love letter that fits your needs and copy it directly into Microsoft Word or your favorite word processor.
Or let our 500 letter-writing tutorials guide you step-by-step through the writing process, suggesting sample phrases and sentences for each writing step. In minutes, you can write an effective love letter.
Print your love letter and send it!