Sample Letter #1
It's hard for me to start this letter. After I talked to you last night, I thought everything would be fine, but when I woke up this morning, I realized that I had wished it was only a dream. I told you that I'm not happy anymore, partly because I wasn't, but the real reason I said it was because I wanted to feel I was still special to you, that you still loved me, because you have changed so much. Lately, I feel you've taken me for granted. I don't know if I'm just being paranoid, but I really miss your sweetness, your presence, your care. Last night, I wanted to hear that you didn't want me to go because you still loved me, but instead you answered me back with coldness and indifference. It really hurt me a lot. I realized I still loved you, despite your attitude. Love you so much.
Related Articles
Related Resources
Still can't find the right words for your love letter?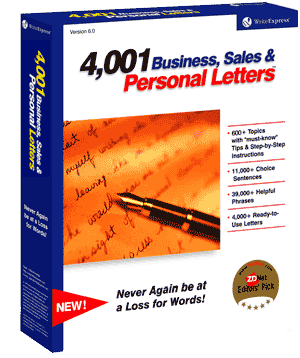 You will with our 500 letter-writing tutorials!
Find the love letter that fits your needs and copy it directly into Microsoft Word or your favorite word processor.
Or let our 500 letter-writing tutorials guide you step-by-step through the writing process, suggesting sample phrases and sentences for each writing step. In minutes, you can write an effective love letter.
Print your love letter and send it!