Sample Letter #1
Baby, I miss you so much! It seems like forever since I saw you last. Every day now is just like the one before. I sit around just thinking about you, wishing you were still mine. The thought that you belong to somebody else is too painful to bear.
I wonder sometimes if you tell her that you love her and that she is the perfect girl, like you once told me. Do you tell her the stories that you told me? And the song, "Unanswered Prayers," do you tell her that it reminds you of her?
Maybe someday we will find each other again and appreciate each other more. You are the love of my life, and I know you still love me too. Good-bye for now. I love you.
Related Articles
Related Resources
Still can't find the right words for your love letter?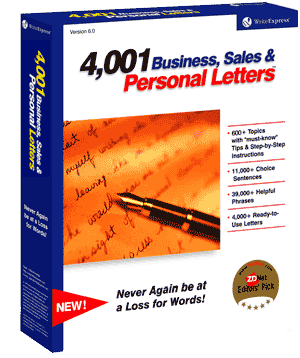 You will with our 500 letter-writing tutorials!
Find the love letter that fits your needs and copy it directly into Microsoft Word or your favorite word processor.
Or let our 500 letter-writing tutorials guide you step-by-step through the writing process, suggesting sample phrases and sentences for each writing step. In minutes, you can write an effective love letter.
Print your love letter and send it!