Sample Letter #1
I know it is as difficult for you as it is for me to be separated for so long. Life seems to be full of trials of this type that test our inner strength and, more importantly, our devotion and love for one another. After all, it is said that true love is boundless and immeasurable and overcomes all forms of adversity. In truth, if love is genuine, it will grow stronger with each assault upon its existence.
Our love has been assaulted many times, and I am convinced that it is true love because the longer I am away from you, the greater my yearning is to be with you again. I cherish any thought of you, prize any memory of you that rises from the depths of my mind, and live for the day when our physical separation will no longer exist.
Until that moment arrives, I send you my tender love, my warm embrace, and my most passionate kiss-across the miles.
Related Articles
Related Resources
Still can't find the right words for your miss-you letter?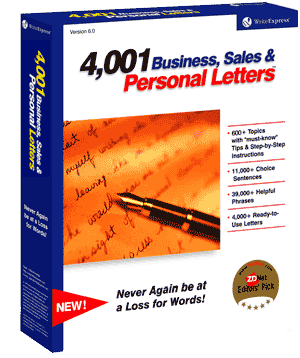 You will with our 500 letter-writing tutorials!
Find the miss-you letter that fits your needs and copy it directly into Microsoft Word or your favorite word processor.
Or let our 500 letter-writing tutorials guide you step-by-step through the writing process, suggesting sample phrases and sentences for each writing step. In minutes, you can write an effective miss-you letter.
Print your miss-you letter and send it!