Sample Letter #1
From the day we met, I knew that you would hold my heart in your hands and you do that now-you completely own me, every part of me. When I think of you, my heart is so full of love and desire for you that I can hardly contain myself. I want to spend every minute of every day with you and know what if feels like to hold you close to me. Whenever you think of me, please know that no matter how many miles separate us, you are, and always will be, the love of my life, and I will never love anyone as much as I love you again. I thank heaven every day for letting me meet you and for falling in love with you because I know that love could never be perfect any other way. I love you with all that I am.
Related Articles
Related Resources
Still can't find the right words for your miss-you letter?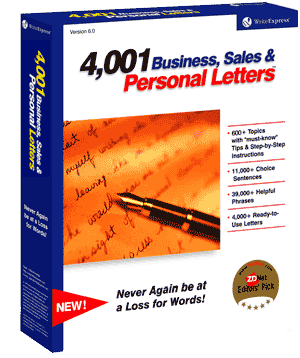 You will with our 500 letter-writing tutorials!
Find the miss-you letter that fits your needs and copy it directly into Microsoft Word or your favorite word processor.
Or let our 500 letter-writing tutorials guide you step-by-step through the writing process, suggesting sample phrases and sentences for each writing step. In minutes, you can write an effective miss-you letter.
Print your miss-you letter and send it!