Sample Letter #1
As the day fades away and the night slips upon me, I find myself clinging to my prayers for comfort. Every night I pray to God that he will keep you in His arms. I pray He will keep you out of harm's way until we can finally be together again.
Sometimes, it seems so unfair that they kept you longer than they said they would. I realize, though, when you love a soldier you cannot expect life to be dependable. You asked me what I wanted to do about us. Well, my love, I do not want our relationship to end, that's for sure.
Just because we will not be able to see each other for a long time is no reason for us to give up hope. If you really love someone, the time and distance apart should not make a difference. Two years is not that long--relatively speaking. I will continue to wait for you. I wouldn't care how long I had to wait. I would wait forever, if that's what it took. So now you have my answer. I love you. I hope you feel the same way I do.
Related Articles
Related Resources
Still can't find the right words for your miss-you letter?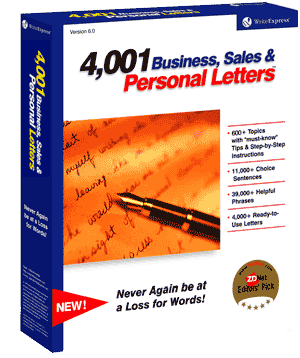 You will with our 500 letter-writing tutorials!
Find the miss-you letter that fits your needs and copy it directly into Microsoft Word or your favorite word processor.
Or let our 500 letter-writing tutorials guide you step-by-step through the writing process, suggesting sample phrases and sentences for each writing step. In minutes, you can write an effective miss-you letter.
Print your miss-you letter and send it!