Sample Letter #1
I know you will never read this, but I want everyone to know that I love you with all my heart and soul. You make me feel like I can fly. I'm in love with you and, even though I am thousands of miles away from you, I am forever by your side.
You have imperfections just like everyone else, I'm sure, but that is why I love you. You make me laugh; you make me cry tears of joy. I truly could not live my life without having you to talk to and to confide in. You know more about me than anyone now. You know my thoughts, you know my heart inside and out, and you have a way of making my heart skip a beat, too. I want you and the whole world to know that I love you and that I will be yours forever.
Thank you for showing me what kind of love all women deserve, but most never have.
Related Articles
Related Resources
Still can't find the right words for your miss-you letter?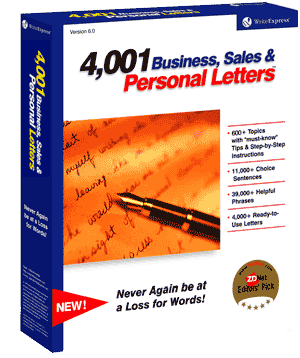 You will with our 500 letter-writing tutorials!
Find the miss-you letter that fits your needs and copy it directly into Microsoft Word or your favorite word processor.
Or let our 500 letter-writing tutorials guide you step-by-step through the writing process, suggesting sample phrases and sentences for each writing step. In minutes, you can write an effective miss-you letter.
Print your miss-you letter and send it!