Sample Letter #1
You came into my life not too long ago, and I didn't think too much of it. We were friends and we got along well, but I never imagined I'd be falling so hard for you. The more I got to know you, the more often I wanted to be with you. You always made me smile, and without you I was very different. You changed me in so many ways. I wanted to wake up in the morning to see what life was going to throw at me each and every day. After we became closer and were talking all the time, you told me you had to leave. You had to go back home, and you couldn't stay any longer.
That night I thought about telling you what lay within my heart, but I decided not to. Your friendship meant so much more to me. You are coming back to visit soon, and I can't help but think about you all the time now. Every morning when I wake up, then during the day, and before I go to sleep, you are always on my mind and even in my dreams. I wish you knew how strongly I felt and that I am falling in love with you.
One day I will tell you, but for now I will only see you in my dreams and hold you close to my heart. I love you so much. I can't wait to see you again!
Related Articles
Related Resources
Still can't find the right words for your miss-you letter?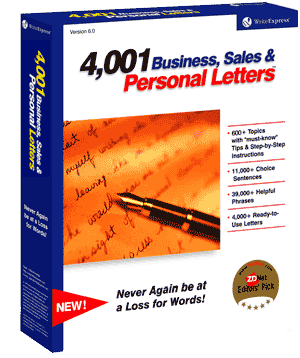 You will with our 500 letter-writing tutorials!
Find the miss-you letter that fits your needs and copy it directly into Microsoft Word or your favorite word processor.
Or let our 500 letter-writing tutorials guide you step-by-step through the writing process, suggesting sample phrases and sentences for each writing step. In minutes, you can write an effective miss-you letter.
Print your miss-you letter and send it!