Sample Letter #1
Remember, our love is the link that holds our two hearts together. If I could put into words how you make me feel when I think of you, and how much you excite me when I hear your sweet voice, I would be talking forever! You're all that I need and want, Honey. I live for the day that I can sit next to you and whisper into your ear and tell you that I love you, and kiss you ever so lightly, but passionately, on your lips, and to look into your beautiful eyes as you take my breath away. I live for that first look into your eyes, that first passionate kiss, that first embrace, and that first time that we make love together. I live to love, to spend a lifetime with you as your wife and to grow old with you, loving you for all time, from now to eternity. I love to love you.
Related Articles
Related Resources
Still can't find the right words for your miss-you letter?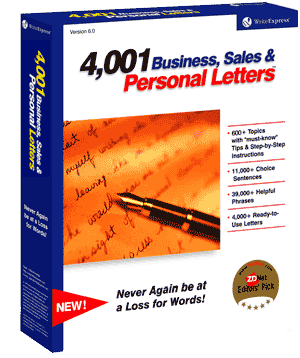 You will with our 500 letter-writing tutorials!
Find the miss-you letter that fits your needs and copy it directly into Microsoft Word or your favorite word processor.
Or let our 500 letter-writing tutorials guide you step-by-step through the writing process, suggesting sample phrases and sentences for each writing step. In minutes, you can write an effective miss-you letter.
Print your miss-you letter and send it!