Sample Letter #1
Being apart from you again is like feeling death in slow motion. I think of how things could have been, if only we had gotten married. But what can we do about it now? Pray for peace. I'm lost without you and can't think about anything but what our destiny could be. Suddenly, I close my eyes and imagine your hands caressing my face, fearing that you'll feel the tears running down my cheeks. I know you're hurting as much as I am, but I don't want you to feel sorry for me. I love you, and I'm not sorry for loving you. You have given me so much happiness, and I know you love me now in your own great way. I miss you so much, and the fear of losing you is driving me crazy. Don't let our love die because of the distance, nor let our faith fade away. I'm waiting for you to come back to my arms, and make the sun shine once again on these stormy times.
Related Articles
Related Resources
Still can't find the right words for your miss-you letter?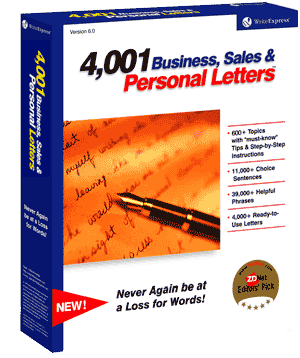 You will with our 500 letter-writing tutorials!
Find the miss-you letter that fits your needs and copy it directly into Microsoft Word or your favorite word processor.
Or let our 500 letter-writing tutorials guide you step-by-step through the writing process, suggesting sample phrases and sentences for each writing step. In minutes, you can write an effective miss-you letter.
Print your miss-you letter and send it!