Sample Letter #1
My love, you are so far and yet so nearby. You are many miles and many moons away, and I get lonely just thinking of the distance between us, yet in my heart you are just a beat away. When I feel blue, I picture you with me on a moon-lit night, holding hands and planning our great future together. I think of the good times to come when I will be embraced by your love. I will be patient, my love, because I know good things come to those who wait. Until then, I will love you, anticipating when you will arrive.
Related Articles
Related Resources
Still can't find the right words for your miss-you letter?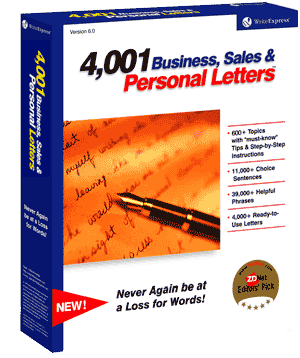 You will with our 500 letter-writing tutorials!
Find the miss-you letter that fits your needs and copy it directly into Microsoft Word or your favorite word processor.
Or let our 500 letter-writing tutorials guide you step-by-step through the writing process, suggesting sample phrases and sentences for each writing step. In minutes, you can write an effective miss-you letter.
Print your miss-you letter and send it!