Sample Letter #1
I'm pretty sure you are safe, because I'm always praying for you. I couldn't really believe that even in my wildest dream that things like these could ever happen to us. I never realized before that just one click of the mouse could really change my life. And I never expected to fall so deeply in love, so fast, with you. What's your magic? How pleased I am to be a meaningful part of your life. I'll always be in love with you--only with you.
I know we can't get together right now; we are just too far apart, and I perfectly understand that. But somehow, I still have faith that in due time, this will all come to an end, and we will be together forever. Being far away from you is not that easy. It's getting harder and is starting to drive me crazy and make me think about you, more and more. Although we're apart now, I can assure you that it doesn't change the way I feel about you. You're such a blessing to me. Thank you for everything, for loving me. I mean it.
And one more thing--I really appreciate you. Maybe you are too smart to fall in love with me, but I guess I am much smarter than you are because I let myself fall in love with you so deeply.
Related Articles
Related Resources
Still can't find the right words for your miss-you letter?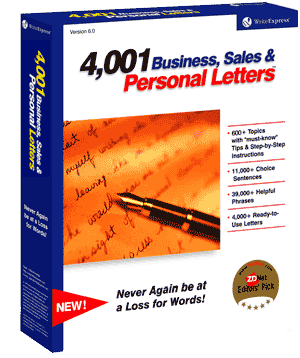 You will with our 500 letter-writing tutorials!
Find the miss-you letter that fits your needs and copy it directly into Microsoft Word or your favorite word processor.
Or let our 500 letter-writing tutorials guide you step-by-step through the writing process, suggesting sample phrases and sentences for each writing step. In minutes, you can write an effective miss-you letter.
Print your miss-you letter and send it!