Sample Letter #1
Baby, I can't even begin to tell you how much I miss you--your fragrance, your laughter, the way you do things. I want more than anything to get our love back together, to see you happily smiling and, most of all, to have you proud to stand beside me again. I've hurt you so much, and I am so very sorry for that pain. I want to be the old me again because I do want to be with you every day and night for the rest of my life. But most of all, I just pray that you will take me back in your heart because I don't want to cause you or our kids any more hurt or pain ever again. Baby, I love you so much and really miss you a lot. I just hope one day you will forgive me for what I have done.
Related Articles
Related Resources
Still can't find the right words for your second chance letter?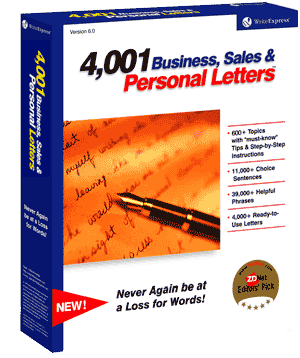 You will with our 500 letter-writing tutorials!
Find the second chance letter that fits your needs and copy it directly into Microsoft Word or your favorite word processor.
Or let our 500 letter-writing tutorials guide you step-by-step through the writing process, suggesting sample phrases and sentences for each writing step. In minutes, you can write an effective second chance letter.
Print your second chance letter and send it!