Sample Letter #1
You know I love you. It has been almost a year that we've been apart and I still want you back. You must see that. You must realize that I can't give up on us. You were my first and only true love. I made so many mistakes. I shouldn't have been jealous. I see how I had nothing to worry about. I had you and my stupid thinking told me otherwise but my heart always knew you loved me and that you wouldn't leave me, but I had to mess everything up and my pathetic attempts to try and get you back. I tried to forget about you but it is so hard to stop loving a man like you. You're a smart, handsome, good-natured man who has a great future ahead of you, and I want to be a part of it. I believe in second chances no matter how much a person screws up and I screwed up big. I believe we are meant to be together forever and always. We were best friends since the 9th grade and I've loved you since then. Please take me back. Mend my broken heart.
Related Articles
Related Resources
Still can't find the right words for your second chance letter?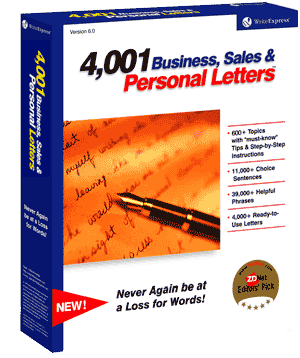 You will with our 500 letter-writing tutorials!
Find the second chance letter that fits your needs and copy it directly into Microsoft Word or your favorite word processor.
Or let our 500 letter-writing tutorials guide you step-by-step through the writing process, suggesting sample phrases and sentences for each writing step. In minutes, you can write an effective second chance letter.
Print your second chance letter and send it!