Sample Letter #1
It will always be you that brings fireworks into my life, not just on the 4th of July but every day before and after. I will always love you. Whether we are together or not, my love for you is still as strong as it was in the beginning. Maybe stronger because I am more determined than ever that we belong together. Now if I could only get you to believe it too and to stop being so afraid. I will never hurt you; I will never leave you. I love you unconditionally. I have seen both the best and the worst of you and I love you more because of that. I want to go back to where we were. I want to be even better than that. You know it's right, that's why even though we have been broken up for over a year; we still find our way back to each other every time we see one another. We can't stay away. I see your love for me in your eyes, in your smile and my love for you is reflected back at you every time I look at you.
Related Articles
Related Resources
Still can't find the right words for your second chance letter?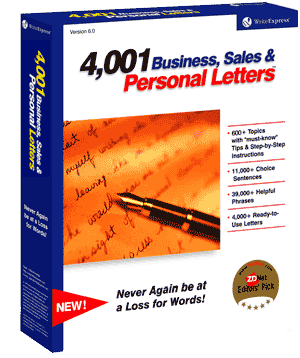 You will with our 500 letter-writing tutorials!
Find the second chance letter that fits your needs and copy it directly into Microsoft Word or your favorite word processor.
Or let our 500 letter-writing tutorials guide you step-by-step through the writing process, suggesting sample phrases and sentences for each writing step. In minutes, you can write an effective second chance letter.
Print your second chance letter and send it!