Sample Letter #1
You have been the best boyfriend in the world. Any girl would be happy to be in my shoes. You have taught me so much, even if you think you know little. You said when I came into your life, I changed you, but no one can change anyone--you're the only one with the power to change yourself.
Thank you for all the material things--from Winnie the Pooh dolls to designer handbags. You shower me with gifts and get me anything I want in the world, but even though you have money now, it didn't buy my love. Love must come naturally, and it did. You bought me everything I ever wanted and more. The only thing left is an Escalade XLT, but hey, I guess that can wait, huh? Just joking!
No matter what your decision is, please keep me in your thoughts and remember that I love you. Material things are nice, but love is best. You always told me that I was the finest girl you had ever seen, so get off work early, and let's kick back together for once. I love you.
Related Articles
Related Resources
Still can't find the right words for your second chance letter?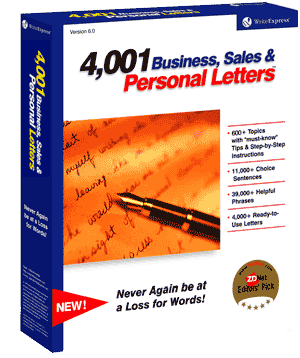 You will with our 500 letter-writing tutorials!
Find the second chance letter that fits your needs and copy it directly into Microsoft Word or your favorite word processor.
Or let our 500 letter-writing tutorials guide you step-by-step through the writing process, suggesting sample phrases and sentences for each writing step. In minutes, you can write an effective second chance letter.
Print your second chance letter and send it!