Sample Letter #1
I have been thinking a lot lately about what went wrong and what makes me feel so awful. I was just so head-over-heels falling in love with you that I did some foolish things, but I just couldn't help trying anything to win back your attention.
Sometimes I feel you don't give me all your attention when we speak. I know you have been busy and have a lot of pressure at work. I'm just not used to it. I mean, you seem quite cold. Whenever we chat, I just want to have your attention. I also realize that I need to pay more attention to your needs. I am sorry for what happened and I really want you back. I want things to be as they were.
I know that I've hurt you, so I'm asking for your forgiveness and hope that we can start over again. I really cherish those moments when everything was going great. I can hardly take the reality of losing you. I need you in my life again. I'll call soon.
Related Articles
Related Resources
Still can't find the right words for your sorry letter?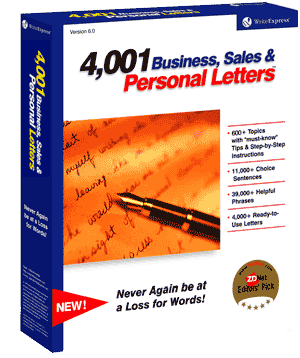 You will with our 500 letter-writing tutorials!
Find the sorry letter that fits your needs and copy it directly into Microsoft Word or your favorite word processor.
Or let our 500 letter-writing tutorials guide you step-by-step through the writing process, suggesting sample phrases and sentences for each writing step. In minutes, you can write an effective sorry letter.
Print your sorry letter and send it!