Sample Letter #1
Sorry for the late response.
I pondered what went wrong the last time we chatted. I wasn't really expecting a sudden burst of emotion from you. Perhaps I responded too harshly.
I perfectly understand the way you feel. You are a very interesting woman with a kind heart, and from the day we met I felt affection towards you. That feeling grew even stronger until I found myself longing for you. I thought it was only a fling between two lonely people who needed special affection, caring, and attention; however, it's become more as the days have gone by. I fell in love with you. Your kindness, warmth, sweetness, respect, and trust in me was there until last Friday when you shut me completely out! Now I feel sorry for myself for the way I acted.
I am so sorry if I hurt your feelings and gave the impression I don't respect you. I do respect you. I want to try to win back your affection.
Let's start again and have more happy memories.
Related Articles
Related Resources
Still can't find the right words for your sorry letter?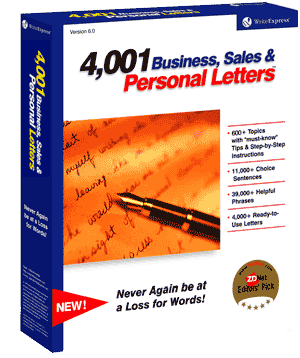 You will with our 500 letter-writing tutorials!
Find the sorry letter that fits your needs and copy it directly into Microsoft Word or your favorite word processor.
Or let our 500 letter-writing tutorials guide you step-by-step through the writing process, suggesting sample phrases and sentences for each writing step. In minutes, you can write an effective sorry letter.
Print your sorry letter and send it!