Sample Letter #1
I tried to look past what was bothering you. I know we met through my ex, who was also your friend, and you tried to warn me about him. Since then you became my best friend. Whenever I needed someone to talk to, no matter where you were or what you were doing, you comforted me. I took advantage of your kindness, and I'm sorry.
When we sat down and had that talk, you told me that since I had a relationship with your friend, you and I could never be, and that you looked at our relationship only as a friendship. I did not want to hear that because I had already fallen in love with you and could not tell you. I told you never to call me again. I am sorry that I did not understand or didn't even try to understand the way you felt. Now that I've pushed you away, I really miss talking and laughing with you, but I am too embarrassed to just call and talk to you now. I can never forgive myself for being this way. I am so sorry I've let you, my best friend, go. I hope someday you can forgive me.
Related Articles
Related Resources
Still can't find the right words for your sorry letter?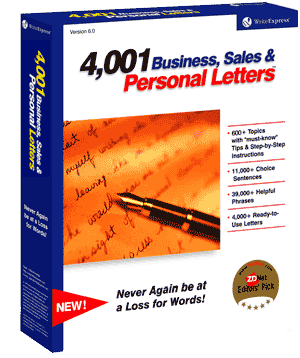 You will with our 500 letter-writing tutorials!
Find the sorry letter that fits your needs and copy it directly into Microsoft Word or your favorite word processor.
Or let our 500 letter-writing tutorials guide you step-by-step through the writing process, suggesting sample phrases and sentences for each writing step. In minutes, you can write an effective sorry letter.
Print your sorry letter and send it!