Sample Letter #1
Things are hard right now, and everything seems to be just a big, painful mess. But I don't blame you alone for any of it. I know this is my fault, too, so I don't expect you to say or do anything to fix it by yourself. I know we are trying to make a lot of screwed up things in our lives better right now, and I hope we eventually can.
All I know right now is that I'm only truly happy when I'm with you. Your mere presence lights up my world. Everything I am and everything I have depends on you and your involvement.
I am sorry for the way I have mistreated you in the past. It is okay. I know you have your regrets too. I know we can be happy again if we want to work everything out, which I think we can do.
You are everything to me, and I love you with all my heart. I hope I can learn to open up to you more, and let you know how I feel. I believe you will be able to recognize when something is wrong, too. But no matter what we do or what happens, I will always love you, Baby, just like in our favorite song. You mean the world to me. Please, let's get back to the way we were.
Related Articles
Related Resources
Still can't find the right words for your sorry letter?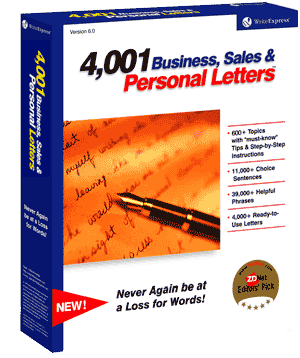 You will with our 500 letter-writing tutorials!
Find the sorry letter that fits your needs and copy it directly into Microsoft Word or your favorite word processor.
Or let our 500 letter-writing tutorials guide you step-by-step through the writing process, suggesting sample phrases and sentences for each writing step. In minutes, you can write an effective sorry letter.
Print your sorry letter and send it!