Sample Letter #1
I am so ashamed of the way I treated you. As I hung your clothes back up in our closet, I realized how lucky I am to still have you. I never want to see an empty space where your things should belong again. I made a big deal out of nothing and took the big things we shared for granted. I am so sorry. You have given me so much more than I ever realized. I am so thankful for what we have now, and everything we will have in the future. You are the only man I ever want to share my closet with! I know we will have to work on some things. I will do my best to make it all better. I will always love you. You will always be my one and only man.
Related Articles
Related Resources
Still can't find the right words for your sorry letter?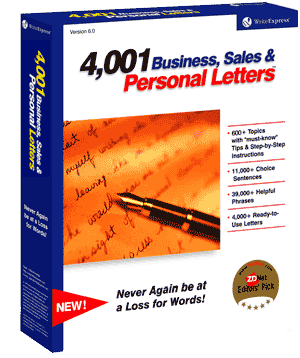 You will with our 500 letter-writing tutorials!
Find the sorry letter that fits your needs and copy it directly into Microsoft Word or your favorite word processor.
Or let our 500 letter-writing tutorials guide you step-by-step through the writing process, suggesting sample phrases and sentences for each writing step. In minutes, you can write an effective sorry letter.
Print your sorry letter and send it!