Sample Letter #1
I just want to thank you for all the support, love, and care you've given me. Though we've been through a lot of pain together, it doesn't matter to me. I love you very much, and I really mean it. I know it's difficult for you to decide, but whatever the outcome of our relationship, I just want you to know that I've never regretted a moment of our time together. I will cherish both the good and bad memories.
I just want to say I am sorry if I hurt your feelings. I just want you to know that I'm thankful that you came into my life. I will love you for the rest of my life.
Thanks for everything and take care always!
Related Articles
Related Resources
Still can't find the right words for your sorry letter?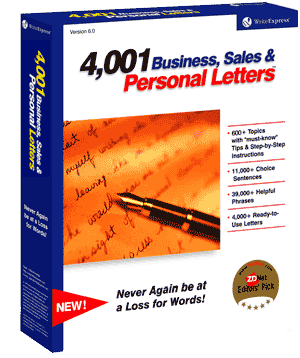 You will with our 500 letter-writing tutorials!
Find the sorry letter that fits your needs and copy it directly into Microsoft Word or your favorite word processor.
Or let our 500 letter-writing tutorials guide you step-by-step through the writing process, suggesting sample phrases and sentences for each writing step. In minutes, you can write an effective sorry letter.
Print your sorry letter and send it!