Sample Letter #1
I think about you every day and every night. When I'm with you, you light up my life. You are the best thing that has ever happened to me, and I wish upon a star every night for you to return to me. The love that I hold for you in my soul is greater than an ocean or the sky above.
Please forgive me for all the hurt that I have caused you. Please, I beg of you to forgive me and return back to my side like the way that it was meant to be. I love you, and I always will until the day that I die. Hopefully, when that day comes, I will still have you by my side and your angel face will be the last one that I see. I want to hold you in my arms again, and tell you how much I love you and how much you really mean to me. I love you!
Related Articles
Related Resources
Still can't find the right words for your sorry letter?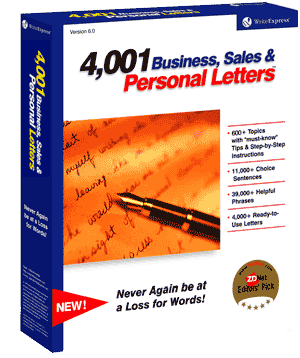 You will with our 500 letter-writing tutorials!
Find the sorry letter that fits your needs and copy it directly into Microsoft Word or your favorite word processor.
Or let our 500 letter-writing tutorials guide you step-by-step through the writing process, suggesting sample phrases and sentences for each writing step. In minutes, you can write an effective sorry letter.
Print your sorry letter and send it!