Sample Letter #1
I realize that during hard times you calm me. Sometimes, you can read my mind and then tell me exactly what I want to hear. Regardless of how much frustration there is in my life, I look forward to your voice to help me through.
I wanted you to call me last night. I wanted to hear you say that I will be okay, no matter what the doctor said; that everything he said was just statistics. I wanted to hear you say that I am not a statistic. Even though I couldn't be in your arms, I wanted to believe that everything could okay, just by you saying it would. I hope that you will call me soon because I need you.
I love you with all my heart.
Related Articles
Related Resources
Still can't find the right words for your sorry letter?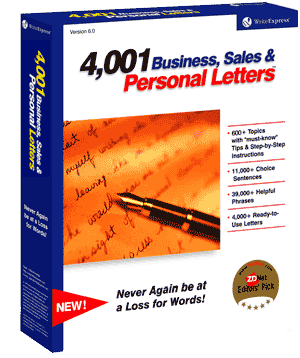 You will with our 500 letter-writing tutorials!
Find the sorry letter that fits your needs and copy it directly into Microsoft Word or your favorite word processor.
Or let our 500 letter-writing tutorials guide you step-by-step through the writing process, suggesting sample phrases and sentences for each writing step. In minutes, you can write an effective sorry letter.
Print your sorry letter and send it!