Related Articles
Letter Categories
Sample Letter #1
I have just learned of the devastating fire that occurred at your warehouse on Friday. I have some sense of the seriousness of your loss and would like to help. I have room in my large warehouse on Maple Lane that you can use until you rebuild. I will call you later in the week to see if there is anything else I can do to help.
Sample Letter #2
How unfair that you should be victimized by the unkindness of another! I am sorry to hear about the robbery you and your family endured. I know such crimes make victims feel terribly violated. If the strength your family has displayed during past crises is any indication of your resiliency, this upset will only be temporary. If the children need attending to after school until they overcome the shock, please send them over.
Sample Letter #3
I was very sorry to hear of your terrible loss Saturday evening. None of us was prepared for that tornado, and I couldn't believe how devastating the damage was to our community, and especially to your home. Yet in spite of it all, you supported and comforted all those around you. You have been an inspiration to us all, and you deserve equal attention. Even after we get things cleaned up, please feel free to call on me for anything you may need. I am ready and willing to help.
Sample Letter #4
John and I were shocked to hear how vandals had damaged your home. It is distressing that such things can happen right here in our Springfield neighborhood. Not only do we want to assist you in cleaning up and making repairs, but we also feel it is time to start a neighborhood watch group to make our area more secure. Maybe we can discuss this more on Saturday. We'll be over at 9:00 a.m.
Related Articles
Related Resources
Still can't find the right words for your sympathy letter?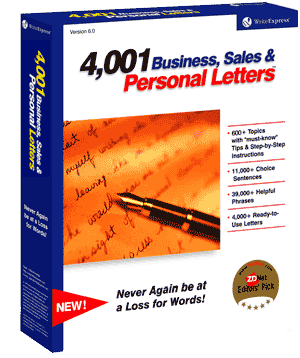 You will with our 500 letter-writing tutorials!
Find the sympathy letter that fits your needs and copy it directly into Microsoft Word or your favorite word processor.
Or let our 500 letter-writing tutorials guide you step-by-step through the writing process, suggesting sample phrases and sentences for each writing step. In minutes, you can write an effective sympathy letter.
Print your sympathy letter and send it!